Face
An Easy Guide to the Best Skin Care Routine for Normal Skin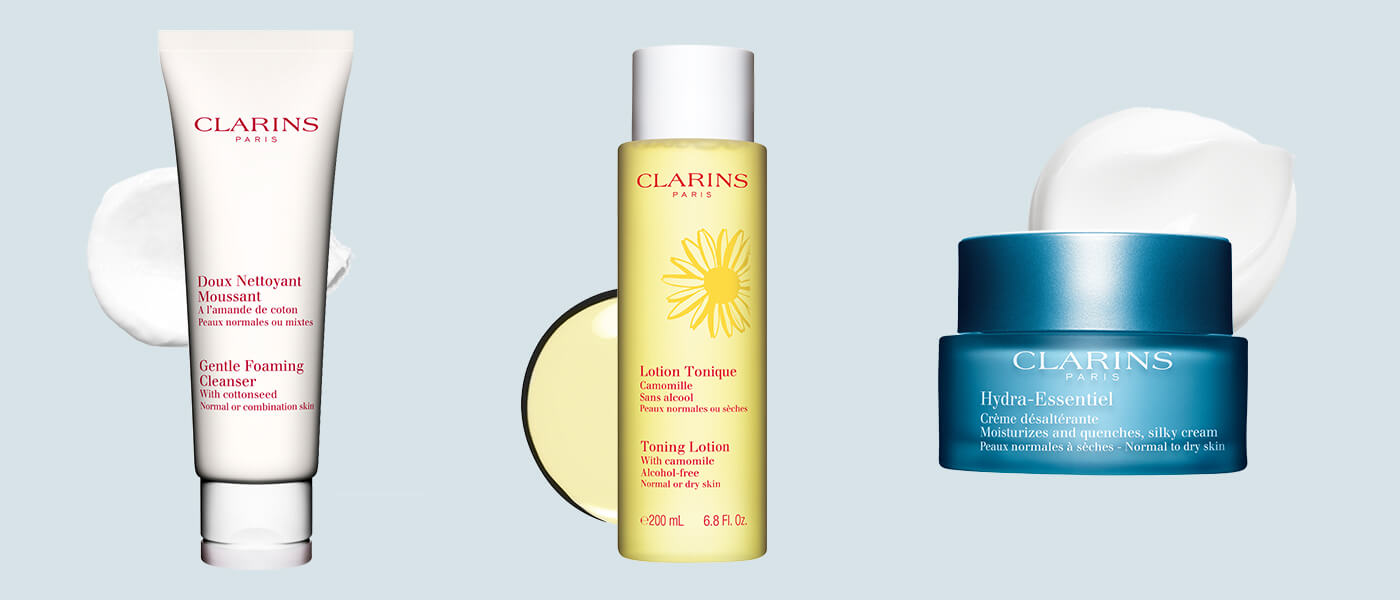 Normal skin can be difficult to categorize. After all, what is normal? If on most days your skin is perfectly balanced but on others your forehead feels a bit oily or your cheeks a little dry, it's likely you have a normal skin type. But even a normal skin type that is perfectly balanced most of the time can be slightly oily on the T-zone at times, or a little bit dry in the cheek area. Just as your environment, health, and circumstances are unique, so is your skin. The time you take learning more about its needs and the normal skin care products that will help you maintain a visibly smooth, clear, and velvety complexion, is time well spent. Let's take a look at the best skin care routine for normal skin.
Getting to grips with normal skin
Skin with balanced hydration – that is neither too dry nor too oily – is categorized as normal skin. Congratulations! Achieving a balanced oil-to-water ratio is the aim of all skin types, so having skin that naturally produces the right amount of oil means you've scored high in the genetic stakes. If your skin can be a little bit oily or dry at times, you have normal to combination skin or normal to dry skin.
Typically, a normal skin type shows these characteristics:
Few imperfections
Low sensitivity or none at all
Tolerates the elements and irritants well
Small or barely visible pores
Good blood circulation and a radiant complexion
Skin tone that is even, clear, and smooth
A soft, velvety texture
Still not sure if you have normal skin? This is what you can do at home to discover what skin type that you are.
Wash your face using a mild cleanser and pat dry. Leave your skin au naturel – in other words, use no moisturizers or serums. After 30 minutes, find a place with good natural light and study your forehead, nose, chin, and cheeks for any shine. Wait another 30 minutes to see if your skin feels tight when you smile or frown. If there is no shine on your forehead and nose, and no tightness in the skin, you're a normal skin type. Some shine on the T-zone but no noticeable tightness means you have normal to combination skin. No shine but dryness in the cheek area suggests you have normal to dry skin. If your skin is dry, flaky, itchy and flushed this means that you have sensitive skin.
If you don't have an hour to set aside for the home skin type test, you can still discover your skin type easily. First, smooth a blotting paper over the different areas of your face. Then hold the papers up to the light to see how much oil they've absorbed. Little or no oil and no tightness of the skin means you have a normal skin type.
Now comes the fun part – learning about your skin's specific needs. This will help you to choose the best normal skin beauty routine, supported by the right combination of products to help keep your skin balanced and looking healthy, smooth, and problem-free.
Normal Skin Frequently Asked Questions
Of course you have questions – and the more you discover about your skin type, the more you'll know how to care for normal skin.
Does it really matter what skin type I am?
Yes, it does. Establishing your skin type will form the foundation of your skin care routine, which will in turn have a profound effect on the appearance of your skin. Keep in mind that understanding your skin type will also help you to determine how it will cope and react to seasonal changes and the various stages and circumstances of your life. Using the wrong products for your skin type can result in skin that looks oily, dull, dry or flaky, or appears to have aged prematurely.
If I have normal,
problem-free

skin, do I need to stick to a skin care routine?

Although you have a normal skin type, any number of factors can throw your skin off balance. In your 20s your skin can tend from normal to combination skin that becomes oilier and leads to breakouts if you're using products that encourage sebum production. After you hit 30, normal skin can become dry and even lead to the appearance of fine lines and dull skin tone without the help of a suitably hydrating beauty routine for normal skin. Establishing a skin care routine that works for your specific needs will show in your skin's appearance – helping you to glow with the beautiful balance you were born with.
What products should be avoided by a normal skin type?
Always avoid harsh, soapy formulas that dry out the skin by stripping it of its natural oils. Read labels to make sure a product is especially formulated for normal skin. Steer clear of harsh acne treatments, or products made for dry and oily skin. The best way to care for normal skin is by always choosing natural skin care – products that contain natural ingredients over chemical ones – as long as they deliver the same level of effectiveness to your skin. This is the golden rule that all Clarins researchers follow when designing our innovative products. Clarins uses over 250 natural plant extracts in its formulas. All are carefully selected for their effectiveness and are delivered in optimal concentrations to reveal the beauty of every woman. Each ingredient is sourced with the utmost care for the environment to protect our planet's biodiversity – and what's good for the planet, has to be good for your skin!
What is the best foundation for normal skin?
A foundation can do a lot more for your skin than simply cover imperfections – Clarins' unique foundation formulas are enriched with plant extracts from around the world, carefully selected for their skincare benefits. Normal skin types that are smooth, even-toned, and have small or barely visible pores and few imperfections, will benefit from a foundation that delivers medium or natural coverage. The best modern foundations deliver excellent coverage while being light enough to allow the skin to breathe and express its very own unique skin tone. Your skin is better than it was before – even after you've taken off your foundation.
How to Care for Normal Skin
Most skin care regimens involve fixing or controlling your skin type's main concerns. But what if you don't have oily areas, clogged pores, redness, or dry and dull skin? The best way to build a skin care routine for normal skin, is to get ahead of any possible problems that may occur for your skin in the future.
Cleansing and toning normal skin
Clean skin is key to a healthy-looking complexion, and it's your face cleanser and toner that helps you start and end each day with a clean canvas. As a normal skin type, you have the luxury of trying different face cleansers and toners for normal skin to see which formulas work best for your skin – but make sure that 'gentle' is always the name of the game. The best face wash for normal skin is a non-drying, creamy facial cleanser that rinses away impurities, trapped makeup, excess oils and dead surface cells, while respecting the skin's natural moisture balance.
When it comes to toners, Clarins toning lotions are water-based products enriched with active ingredients like botanical extracts that benefit normal skin. Camomile visibly softens and soothes the skin, and Aloe Vera helps to moisturize and stimulate the circulation. Use toning lotion once or twice a day, after cleansing your face but before applying your moisturizer, gently wiping the toner on a cotton ball over your face, neck, and décolletage.
Serums and boosters for normal skin
Face serums deliver a concentration of ingredients to the skin that amplify the benefits of your cleanser, toner, and moisturizer. Since face serums have a thin, lightweight texture, they're perfect to use daily in your normal skin beauty routine – under your moisturizer after cleansing and toning.
Even near-perfect skin can benefit from the use of a face serum. If there are no specific skincare concerns you'd like to address, a face serum used once a day can visibly improve your skin's texture, especially those that contain collagen and Vitamin C. Face serums also help to revive normal skin that has lost its dewy glow due to everyday environmental pollutants and spending time in heated or air-conditioned buildings.
Moisturizers for normal skin
Moisturizers are the hardest-working product in your beauty routine and they are not just for dry skin. If you have normal skin, you may be under the impression that a face moisturizer isn't a necessary part of your skincare routine. Not so. Without enough moisture, oil glands work overtime to keep skin from drying out, which can lead to blemishes and clogged pores.
The rule of thumb is to go ahead and moisturize as often as required — usually this means twice a day: once in the morning and once before bed. However, being in touch with your body is the key to healthy living, so don't be afraid to listen to your skin and give it the moisture fix it needs, whenever it needs it.
The best cream for normal skin in summer is a lightweight moisturizer or a moisturizer for normal to combination skin. You might want to switch up to a richer moisturizer for dry to normal skin if you're in a cold or dry climate that makes your skin feel tight.
Your skin has different needs during the day than it does when you sleep. Have one moisturizer on hand for the morning, and use another at night before bed. The best moisturizer for normal skin after 40 is a luxurious anti-aging night moisturizer that visibly firms, tones and improves the skin's elasticity.
Eye care for normal skin
Even normal skin types can need a bit of help with dark circles, eye bags, and puffiness – especially if you've maxed out on your beauty sleep. The best eye creams for normal skin are plant-powered – like Clarins' powerful blend of Acerola extract and Escin from Horse Chestnut extract that visibly minimizes brown or dark circles for brighter, younger-looking eyes – or Organic Harungana extract for visible firming and anti-aging benefits, temple-to-temple.
Exfoliators and masks for normal skin
Once a week, give your normal skin the spa treatment with a gentle facial exfoliator that rids skin of makeup, embedded impurities and dead surface cells to reveal clean, polished skin beneath. Look out for orange extract that refreshes and renews the skin's radiant appearance–Moringa Seed extract helps to purify, refine and preserve skin's natural moisture balance. Follow with a mask for normal skin that brightens, tightens and eliminates signs of fatigue. Or, for the ultimate skin pampering, try a refreshing night care mask that works to help brighten and revive your skin while you sleep.
Sunscreen for normal skin
While most of us tend to think of SPF as a summer essential, it's equally important all-year-round for all skin types. UV rays are just as harmful during the winter as they are in the summer. What's more, UVA rays can penetrate window glass. This means you are exposed to harmful rays during your drive to work and even at your desk if your office is filled with natural light. Without a doubt, sunscreen is important for everyone. For everyday UV protection for normal skin, try a broad spectrum SPF that contains an anti-pollution complex, which helps to protect your skin from the sun as well harmful pollution.