Face
The Ultimate Guide to Caring for Oily Skin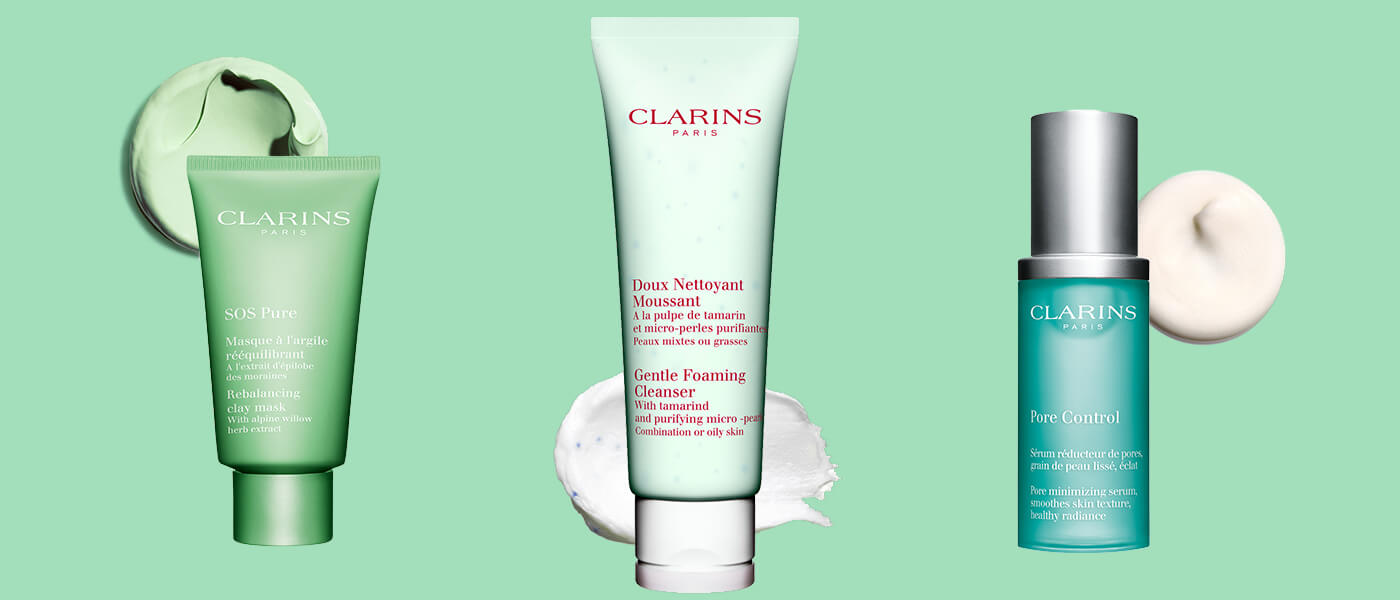 Has your skin signed you up for Operation 'Mop-up an Oily Face'? Are you a one-woman search and rescue team on the lookout for makeup mudslides, pimples, and blackheads? Undoubtedly, oily skin can be a challenge, but there is good news for you. The dermis of oily skin tends to be thicker and is better at holding moisture—so it feels softer and can look smoother and appear to have fewer lines and wrinkles. The difference between shiny, clogged, and blemished skin, and a clear, healthy-looking complexion, is some expert advice and a skin care routine for oily skin that really works. Now's the time to dial down the shine and turn on the glow!
Getting to grips with oily skin
The body produces oil to keep skin lubricated, supple, and healthy, and to act as a barrier against bacterial and fungal infections. But when the body produces too much oil – called sebum from the sebaceous glands – these glands can get bigger and increase the size of our pores. Sebum (which contains triglycerides, free fatty acids, wax esters, squalene, cholesterol esters, and cholesterol) sits on the surface of the skin and is joined by lipids from skin cells, sweat, and environmental matter. When dirt and bacteria are trapped on the skin, this leads to blackheads, whiteheads, and pimples.
People with an oily skin type have all or several of these complaints:
Shine on the skin that feels oily to the touch
Open pores, concentrated mainly in the

T-zone

(oily forehead, nose, and chin)
A tendency for whiteheads and blackheads
Regular breakouts of pimples
Pimples on the chest and back

Dull-looking

skin
Oily hair that needs to be washed often
Although oily skin may have a thicker dermis, this does not mean the skin is any tougher than normal skin or dry skin types. Unfortunately, one of the most common mistakes made in oily skin care is using harsh, drying products or treatments too often on the skin. This can lead to oily skin that appears to be combination skin (with an oily T-zone and dry cheeks), sensitive skin (that looks red, or itches and stings) or even oily skin that presents as dry skin. This is not an uncommon occurrence.
If you've been wondering lately: 'do I have dry or oily skin?' - then it's possible that your skin has become rough, flaky, and dehydrated from overuse of harsh scrubs, drying cleansers, alcohol-based products, and over-the-counter acne treatments.
Oily skin can be hereditary, but it can also be brought on by hormone changes during puberty, menstruation and pregnancy. Even poor hygiene or lifestyle choices can cause normal skin to produce more oil in the T-zone.
Before choosing the best skin care products for oily skin, getting to know your skin type is your first line of defense in tackling oily skin and bringing balance back to your complexion.
Oily Skin Frequently Asked Questions
Of course you have questions—and the more you discover about your skin type, the more you'll know about creating the best skin care routine for oily skin.
What causes oily skin?
As sebum travels to the surface of the skin, it gathers cells that are shed inside the hair follicle. Once a follicle is full, the sebum flows onto the surface of the skin. Your skin type is determined mainly by the amount of oil your body produces. Too few oils and your skin will be dry, a normal skin type has a good balance of oils, while oily skin produces an oversupply of natural oils. So what causes the skin to produce a particular quantity of oil?
Hormones like estrogen and progesterone, and especially testosterone, control the production of sebum. Hormones can become more active during puberty, pregnancy and menstruation. Other factors that affect sebum production include certain diseases like Parkinson's, and disorders related to the pituitary and adrenal glands. Medications like oral contraceptives, antiandrogens, and vitamin A derivatives can reduce the amount of sebum produced by the body. It's also believed that severe stress or sleep deprivation can affect hormonal activity which, in turn, can reduce or increase sebum production.
Will I always have oily skin?
Not necessarily. Since sebum production is affected by hormone activity, the oil levels of the skin will fluctuate throughout your life. Sebum production increases at puberty when hormones become more active, and typically begins to decrease by age 20. It will keep slowing with age – so skin that is oily during adolescence and through your 20s, may become normal or even dry after 40.
What is important, no matter your age, is to find products that can help to balance the skin's moisture levels while giving it all the nourishment it needs. Start with a skin care routine for oily skin right at the outset of puberty to set healthy skin care habits for life. Choose formulas that use energizing fruit extracts and detoxifying flower waters to help put nutrients into the skin and flush out toxins and pollutants – leaving skin looking radiant, nourished, and feeling healthy.
Do I have dry or oily skin?
Oily skin can easily become stressed and dehydrated if treated with harsh alcohol-based products. Prescription drugs like etin-A can also make the skin feel tight and dry. Your first step is to throw out drying soaps, harsh scrubs, and moisturizers that fail to give your skin the hydration it needs. (If your skin's natural oils are stripped away by harsh ingredients and the wrong oily skin treatments, your skin can secrete even more sebum in an attempt to rectify the problem.)
Keep in mind that drinking too little water and too much alcohol can also dehydrate the skin. You'll want to stay hydrated, eat a healthy diet that includes lots of fresh produce, cut back on the sugar, and get plenty of sleep.
How can I get rid of oily skin?
While you may not be able to get rid of oily skin, you can certainly manage it with oily skin products that help to mattify and soothe the skin. Give your skin the help it needs to balance oil, instead of stripping away that shine. Think about gentle cleansers, refreshing toners, and lightweight moisturizers that help to nourish the skin.
Resist the urge to cleanse more than twice a day. Use a gentle, foaming face wash, and never scrub your skin. Use products that are labeled non-comedogenic (this means they won't clog your pores). Always use a face moisturizer for oily skin twice a day and include a daily sunscreen in your skin care routine for oily skin. Soak up the oil with a clay-based face mask for oily skin, and look out for oil-free, water-based makeup for oily skin. Use blotting papers when necessary, and remember never to rub your face – gently press the paper to the skin and leave for a few seconds to soak up oil. Touching your face throughout the day can spread dirt and bacteria, so resist the urge.
What is the best makeup for oily skin?
Achieving makeup that looks matte and stays put can be a real challenge when you have an oily face. Your best friend when achieving gorgeous makeup for oily skin is your face powder. The best powder for oily skin is an oil-free, mineral powder formula that helps you to achieve a matte finish while controlling the appearance of shine.
The best setting powder for oily skin has no color and helps to create a matte complexion by reflecting light away from the skin – and you can even brush over eye shadows to keep makeup in place. (Opt for powder eye shadows, blush and pencil eyeliner – creams and liquids are more likely to shift on an oily face.)
Add blotting papers to your arsenal – for matte skin in seconds. Look out for portable, 2-step compacts that include blotting papers as well as a lightweight, translucent powder to keep skin looking fresh, matte and shine-free no matter where you are or how busy your day. If you'd prefer not to use blotting papers, why not try a blur and matte stick – a great way to absorb oil and blur the appearance of pores for a visibly smooth, matte complexion throughout the day.
The best setting spray for oily skin should be a light, refreshing mist that helps to set makeup and give longer-lasting hold. Look out for formulas that help to soothe and moisturize your skin with aloe vera and allantoin.
What is the best primer for oily skin?
The best primer for oily skin is a shine-defying, emulsion-gel makeup primer that blurs the appearance of pores and imperfections. Look out for ingredients like mattifying Organic Strawberry Tree fruit extract that minimizes the appearance of pores—helping to create a smooth canvas for makeup application.
What is the best foundation for oily skin?
A good foundation for oily skin has a gentle melting texture that works doubly hard to blend easily and blur the look of enlarged pores, while helping to smooth the way to an even-looking skin tone and a complexion that appears perfectly shine-free without drying out your skin.
The best concealer for oily skin has a long-lasting, fluid texture that blends flawlessly and gives medium to high coverage, helping to conceal shadows and signs of fatigue—and restoring a natural-looking skin tone to the under-eye area.
How to Care for Oily Skin
Cleansing and toning oily skin
Using a facial cleanser might seem fairly straightforward, but cleansing incorrectly can lead to excessive dryness, oiliness, and even breakouts. Here's what you need to know: cleansing your face more than twice a day can strip your skin of its natural oils resulting in tightness, while not cleansing enough can lead to a build-up of oil, resulting in clogged pores, blackheads and blemishes.
The best facewash for oily skin should always be non-drying and gentle with ingredients like Tamarind Fruit Acids and purifying micro-pearls that help to promote a clean, shine-free complexion.
The best toner for oily skin is always alcohol-free and uses plant extracts like purifying Iris – a natural astringent that helps visibly balance oily skin – to help remove every last trace of cleanser and oil buildup, leaving skin radiant-looking, balanced and refreshed. The best toners for oily skin also visibly tighten pores and soothe irritations, and prep the skin for serum and moisturizer.
Serums and face treatment oils for oily skin
Serums and boosters can deliver a smorgasbord of benefits to oily skin. A pore control serum can help to mattify the skin and visibly tighten pores for a refined, shine-free looking complexion. Botanical ingredients like Tamarind pulp acid naturally exfoliate pore-clogging debris to help smooth and refine skin's texture for a visible boost of radiance. Try a serum power-packed with age-defying Turmeric for more mature oily skin.
If you've never thought to use an oil on your skin – think again! Purifying face treatment oil, formulated with 100% pure plant extracts, is a natural astringent for oily skin. Essential oils like Lotus, Rosemary and Geranium help to hydrate, and visibly tone and tighten pores. Hazelnut Oil, rich in Omega 9 and Vitamin E, can aid in softening, soothing and sealing in moisture to minimize the appearance of fine lines.
Moisturizers for oily skin
Oily skin needs the right levels of moisture to stay healthy. So don't be tempted to skimp on your moisturizer. Without enough moisture, oil glands work overtime to keep skin from drying out, which can lead to blemishes and clogged pores.
The best moisturizer for oily skin is a refreshing lotion that uses ingredients like purifying Alpine Willow Herb and soothing Linden — to help calm, soothe, and visibly tighten pores. Skin is more likely to stay shine-free and moisture-perfected throughout the day.
If you're wondering about the role plants can play in gently managing oily skin, over 250 natural plant extracts are used in Clarins' formulas. Each is carefully selected for its effectiveness and delivered in optimal concentrations to reveal the beauty of every woman, and all ingredients are sourced with the utmost care for the environment to protect our planet's biodiversity.
Exfoliators and face masks for oily skin
Exfoliators and face masks are an important part of oily skin management. Try using a gentle exfoliating toner that helps to prevent build-up of pore-clogging debris, to visibly brighten and balance oily skin.
Use a face mask for oily skin once or twice a week as needed. A rebalancing clay mask is an effective oily skin treatment. Look out for ingredients like Organic Alpine Willow Herb extract that helps mattify, minimize shine and reduce the appearance of pores. White Clay and Green Clay help absorb impurities, smooth the skin and promote a healthy-looking glow.
If you're looking for a DIY face mask for oily skin – reach for the fruit bowl. Oranges and lemons, as well as grapefruit and papaya, are rich in vitamin C and have astringent oils that can help to calm oil production and mattify oily skin. Don't leave out the humble tomato – that can soak up excess oil while shrinking the appearance of large-looking pores. Simply mash up the fruit and spread over the T-zone (oily forehead, nose, and chin). Since these fruits are natural astringents, they may dry out the cheek area. These masks are also effective oily skin remedies for blackheads and blemishes.