Face
A Simple Guide to Caring for Sensitive Skin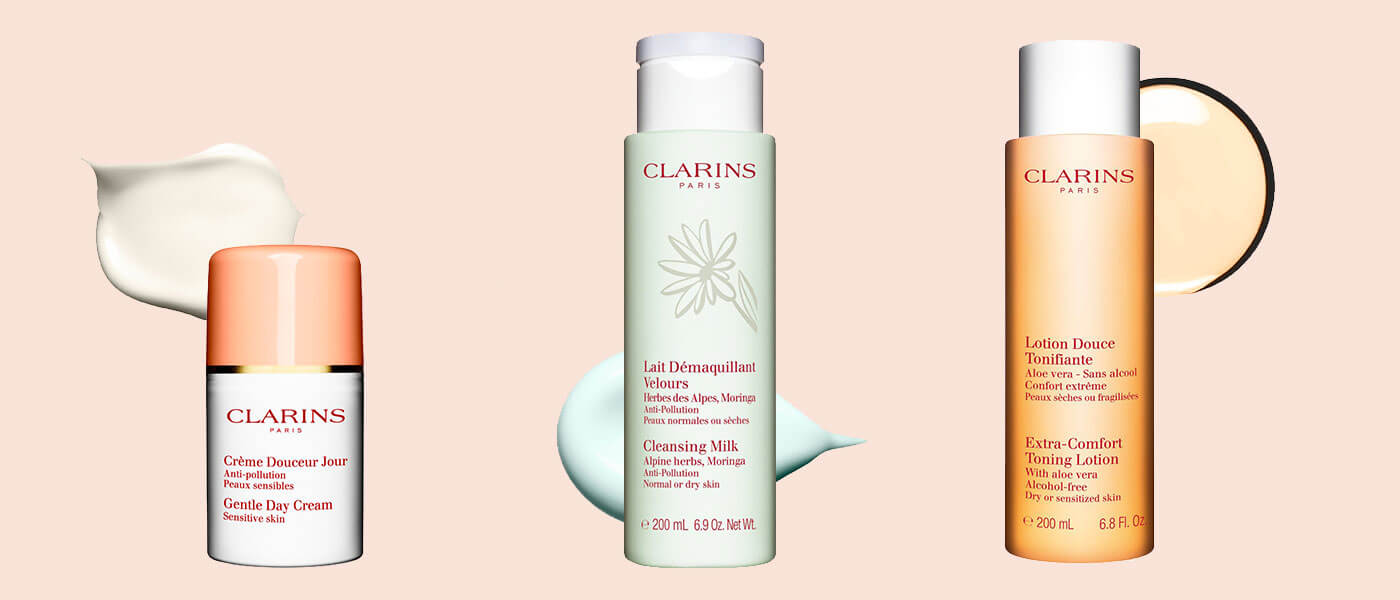 They don't call it sensitive for nothing! Allergies, harsh products, hidden ingredients, stress, hot showers, and even cold weather can trigger sensitive skin to react with anything from an angry blush to itching, flaking skin, hives, and bumps. But on a more soothing note, just as there are many causes of sensitive skin, there are many ways to manage the condition. Here, we share the best skin care products for sensitive skin and simple but effective ways to give your sensitive skin all the care it deserves.
Getting to grips with sensitive skin
You have a sensitive skin type if your skin regularly shows all or a combination of these symptoms:
Itching, burning, and redness
A tendency towards blushing and flushed skin
Dry skin that doesn't protect nerve endings as it should
Pustules, skin bumps, or skin erosion (a loss of some of the epidermis – the outer layer of skin)
If your skin is dry, rough, and dull, you have dry sensitive skin and will benefit from following a regimen of skin care for dry sensitive skin. You might find your skin is not only sensitive, but tends to have an oily T-zone and a dryer cheek area—this means you have sensitive combination skin. If your skin is not sensitive at all and is perfectly balanced most of the time, this means that you have normal skin.
Sensitive skin can be difficult to diagnose and manage in the long term because it varies in so many ways — from a tendency to get mildly red and itchy, to more severe inflammation and skin allergies like contact dermatitis.
Not only does sensitive skin present in many ways, it also has a long list of causes. The best advice is to consult a dermatologist if your skin is severely uncomfortable or compromised. For a milder sensitivity, discovering more about your skin type and following a skin care routine for sensitive skin can help to keep redness, stinging, and dryness under control—allowing your skin to appear smoother, well hydrated, and even-toned.
Sensitive Skin Frequently Asked Questions
Of course you have questions—and the more you discover about your skin type, the more you'll know about how to care for sensitive skin.
What causes sensitive skin?
Your skin acts as your body's shield — holding in vital moisture and keeping out what might be harmful or damaging to you. It might be that sensitive skin is more penetrable than normal skin — this means your skin's barrier has a tendency to let through things that irritate it. This could be the result of genetics, dry sensitive skin, an underlying condition like eczema, or it could be worsened by age, or stress and anxiety. One factor that could compromise the skin's barrier is the absence of enough ceramides—these are fatty acids that help your skin function as a protective layer.
My skin isn't red or flaky but it stings if I use certain products — do I have sensitive skin?
Having a sensitive skin type generally means your skin is more reactive to certain ingredients or products. This reaction can be as mild as itching or stinging discomfort without any redness, or as severe as swelling and scaling. If your skin tends to feel even slightly tender after using certain products, it's best to opt for skin care products for sensitive skin.
Do I really need skin care products for sensitive skin?
Reducing irritation to sensitive skin can be as simple as using skin-type specific products in your skin care routine. Cleansers, toners and moisturizers that contain harsh ingredients — synthetic and alcohol-based fragrances, sulfates, preservatives, parabens and phthalates, urea, and exfoliants like alpha- or beta-hydroxy acids or salicylic acid — can irritate your skin. Sensitive skin care products are designed to help the skin hold in moisture and act as a barrier.
What precautions can I take when introducing a new product to my beauty routine?
Do a patch test before trying out a new product. Apply some of the product to your inner forearm, and wait 72 hours. If your skin feels comfortable and shows no signs of redness or irritation, apply a small amount behind one of your ears. If there is still no reaction, the product should be safe to use on your face.
What is the best deodorant for sensitive skin?
Choosing a deodorant for sensitive skin is particularly important because the delicate skin of the underarm is more prone to allergic reactions. Steer clear of aluminum-based compounds often used in antiperspirant deodorants — they stop moisture flow to the skin by temporarily plugging sweat ducts, which is not ideal for people with sensitive skin. Look out for aluminum sesquichlorohydrate instead, which is kinder to sensitive skin. Other ingredients that can compound skin sensitivity are synthetic fragrances, alcohol, and parabens used in many cosmetics as preservatives — these include any words on the ingredients list ending in –paraben (like methylparaben or propylparaben).
What is the best skin care for dry sensitive skin?
Give your skin the help it needs by using products for dry and sensitive skin that deliver hydration without clogging pores. Begin your dry sensitive skin beauty routine with a mild cleanser or cleansing milk. Make sure the toner you use is gentle and alcohol-free. Follow with a serum that addresses the skin's five vital functions: hydration, nutrition, oxygenation, regeneration, and protection. Use a gentle day cream for sensitive skin, then amp up the moisture while you sleep with a night cream that visibly hydrates and smoothes the skin's appearance. Don't forget to use a hydrating cream-gel eye cream twice a day on the delicate eye area.
What is the best makeup for sensitive skin?
Stick with makeup brands you can trust and look out for innovative products that combine makeup and skin care — a definite plus for sensitive skin! Avoid heavy, pore-clogging products. The best foundation for sensitive skin delivers excellent coverage while being light enough to allow the skin to breathe. Always read the label. You're looking for makeup that puts the power of plants to work for your skin — Mary's Thistle Oil softens the skin, and organic Leaf of Life extract hydrates for up to 24 hours — treating you to radiant-looking skin on those days when mother nature could do with a bit of help!
If your skin tends to be hypersensitive, stick with pencil eyeliner and eyebrow fillers—liquid eyeliners may contain latex which can trigger an allergic reaction. Those with sensitive skin should avoid waterproof makeup that must be removed with special cleansers, as these can irritate the skin. Makeup for sensitive skin that is older than six months should be thrown away—spoiled or contaminated products can aggravate sensitive skin.
Can I use hypoallergenic products on my sensitive skin?
Not necessarily. There are no federal standards for the use of the term "hypoallergenic", so it can mean different things for different beauty brands. To find out what's in a product (and if it's likely to irritate your skin), you can look up products by brand name on Household Products Database online which is compiled by The National Institutes of Health (NIH) and the National Library of Medicine (NLM) Specialized Information Services group.
What is the best soap for sensitive skin?
Avoid soap unless it is formulated for sensitive skin. It should be free of artificial fragrances, dyes, and colorants. Soaps that are best for sensitive skin are free of artificial fragrances, dyes, and colorants, and they have a base that is 100% pure vegetable oil or glycerin. The shorter the ingredients lists on your soap bar, the better.
How to Care for Sensitive Skin
Cleansing and toning sensitive skin
The vital first step to any beauty routine, cleansing revs-up your skin's circulation to visibly boost radiance, and preps it to receive the full benefits of the treatments to follow. The best face wash for sensitive skin gently cleanses away dead surface cells, makeup, excess oil, bacteria and pore-clogging debris, allowing your skin to breathe. You're looking for a product that is as effective as a soap, but as gentle as a cream, even helping to neutralize the drying effects of hard water. For extremely sensitive skin, try a cleansing milk that lifts away makeup and impurities without the need for water. Plant-based ingredients like Alpine Herbs, Moringa Seed, Sweet Almond, Marshmallow and Linden help to maintain moisture balance for comfortable and radiant-looking skin.
If your beauty routine includes a toner, make sure you use a toner for sensitive skin that's gentle and alcohol-free. A gentle toner removes every last trace of cleanser, leaving even the most sensitive skin visibly soft, comfortable, and refreshed.
Face treatment oils for sensitive skin
Best quality face treatment oils can deliver great benefits to sensitive skin. Skin-calming treatment oils that are formulated with 100% pure plant extracts provide soothing relief to dry, extra-dry or sensitive skin. Aromatic blends of essential oils like Sandalwood, Cardamom and Lavender visibly hydrate, tone and comfort skin that is very dry, irritated or stressed. Hazelnut Oil, rich in Omega 9 and Vitamin E, can help to soften and soothe skin sensitivity while supporting the skin's ability to seal in moisture to minimize the appearance of fine lines. Fine, lightweight formulas that are easily absorbed will nourish sensitive skin without clogging it.
Moisturizers for sensitive skin
Washing your face, eating well, and exercising are all great ways to help sensitive skin — but nothing can take the place of your moisturizer. When you moisturize, you're not only hydrating your skin; you're also protecting it from the harmful effects of stress and pollution. Clarins' face moisturizers contain an Anti-Pollution Complex that can help to shield sensitive skin from harsh environmental influences that lead to flare-ups and irritation. The best face moisturizer for sensitive skin contains ingredients like Brown Linseed and Christophine that help to moisturize, comfort, and visibly calm redness and irritation — leaving skin looking soft, smooth and radiant.
Your skin has different needs during the day than it does when you sleep. Have one moisturizer on hand for the morning, and use another at night before bed. Night creams for sensitive skin that contain Organic Harungana Leaf extract can help restore the appearance of youthful vitality to mature skin, while Organic Sunflower oil visibly soothes sensitive skin.
Exfoliators and face masks for sensitive skin
Give your skin a once-weekly spa treatment with a pampering face mask for sensitive skin. After cleansing, use a gentle exfoliating toner with an ingredient like Tamarind extract to rid skin of dry, flaky surface cells, and White Nettle extract that can assist in preventing the build-up of pore-clogging debris — encouraging cellular renewal and soft, healthy-looking skin.
Follow with a nourishing face mask with a creamy formula — a beauty reset for skin that is rough, dull, flaky and dry. Ingredients like soothing Wild Mango Butter help to visibly soften, comfort, and renew sensitive skin, while Mango oil helps protect skin against dehydration for supple-looking skin.
Exfoliators and face masks for sensitive skin
Since heat and sun can aggravate sensitive skin, it's important to use a sunscreen all year round that has an SPF of 30 or higher. Clarins has broad spectrum sunscreens with an innovative Anti-Pollution Complex. The result? A silky, oil-free day screen that when combined with other sun protection measures helps protect sensitive skin from the appearance of dark spots and decreases the risk of early skin aging.