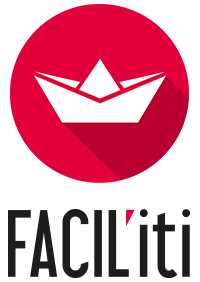 WHAT IS IT?
FACIL'iti

is Internet for everyone.

FACIL'iti was introduced in 2015 to make the Internet accessible for disabled users and seniors.

It's a functionality that automatically adapts Web content on computers, tablets and smartphones for a wide range of visual, motor and cognitive disorders—or, simply, helps meet basic needs for a better online experience. For example, FACIL'iti modifies clickable zones for people with Parkinson's disease, adapts graphics for seniors, enlarges text for the visually impaired, and changes color schemes for people who are colorblind.
How do I activate FACIL'iti?

1. OPEN FACIL'ITI
The first time you use it, just click on the red FACIL'iti logo at the bottom of the page on our website.

2. CREATE A PERMANENT PROFILE
A page will open allowing you to create a profile. It's really easy: either create your profile with a single click or make a custom profile.*

3. CONFIGURE YOUR PROFILE AND CLOSE FACIL'ITI
Once you have selected a profile or a set of functionalities, they will automatically be applied to all of the websites where FACIL'iti is installed. You can now close the FACIL'iti website.

4. RETURN TO THE CLARINS WEBSITE
After creating your profile, return to Clarins.com. It will be adjusted to all of your requirements.
*Currently, FACIL'iti can be customized for 11 disabilities: colorblindness, farsightedness, cataracts, age-related macular degeneration (AMD), multiple sclerosis, osteoarthritis, Parkinson's disease, essential tremors, Wilson's disease, dyslexia, and photosensitive epilepsy (PSE).
Clarins for everyone!
Clarins knows the Internet is a basic necessity in today's world and wants everyone to have a great online experience. That's why we have installed FACIL'iti on Clarins.com.
The text and graphics on the Clarins website will automatically adjust to provide digital accessibility for:
47M senior citizens in the US
57M Americans with a disability
15% of the US population with dyslexia
With access to FACIL'iti, Clarins' efforts in the health field are reaching new heights. In addition to the financial, personal and scientific support the company already provides to people with illnesses, it is committed to fighting digital exclusion.