Effortless Makeup.
Maternity can leave skin looking and feeling rattled. Sometimes tired and dull.
Other times you may glow. With so many hormonal changes, it's to be expected.
What to do about these ups and downs? Take Clarins' makeup tips to look your best during all of pregnancy's many beauty challenges.

Complexion experts.
Instant Smooth Perfecting Touch. Clarins' award-winning makeup primer fills-in fine lines, wrinkles and enlarged pores—leaving skin smooth, radiant and foundation-ready in seconds.
SOS Primer. Clarins has 6 color fixes for any beauty concern: lack of radiance, fatigue, imperfections, dark spots, redness, sallowness. A touch or two of the right hue sets the tone for luminous skin and flawless makeup.
Instant Light Brush-On Perfector. Conceals shadows, dark circles and imperfections in seconds—while illuminating skin with a flawless radiance.
Twinkle, twinkle—sparkling eyes.
For a fresh, natural look.
Ombre Velvet. Clarins' formula soothes and nourishes the delicate skin on eyelids, while delivering an intense and immediate color result.
Supra Volume Mascara. Innovative, double effect mascara visibly creates intense volume for a full, magnified lash look.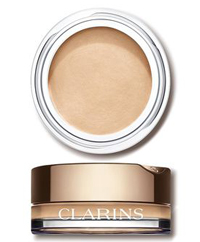 Ombre Velvet
$26.00
High-shining lips.
Joli Rouge Brillant Lipstick. Delivers 6 hours of non-stop moisture your lips will feel good about.* Super-hydrating Mango oil and Clarins' Shine Booster Complex make lips plump, luminous and luscious.
*Hydration kinetics - 11 women.
Joli Rouge Lacquer. A super-hydrating lip lacquer stick that delivers vinyl-like shine and intense, long-lasting color and hold.