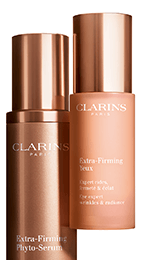 NEW
Extra-Firming
Serum & Eye
Meet our power lift duo.
Breakthrough formulas to visibly firm, lift and tighten for a more youthful look.

BACK TO BASICS
WHAT IS EXTRA-FIRMING?
CIarins' advanced wrinkle-fighting formulas promote skin suppleness at its source for visibly firmer, smoother, more renewed skin day after day.
HOW DOES IT WORK?
Extra-Firming formulas are packed with powerful plant extracts that visibly tighten and lift skin to smooth the look of wrinkles.
ORGANIC MITRACARPUS
Visibly boosts elasticity and firmness.
KANGAROO FLOWER
Boosts skin's regeneration for visibly firmer, youthful-looking skin.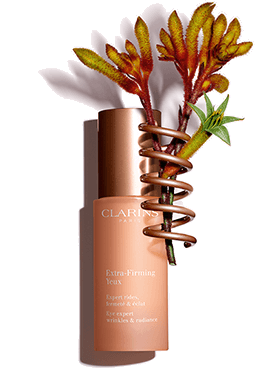 Kangaroo Flower
Extra-Firming Eye
Eye expert wrinkles & radiance
This groundbreaking, 2-in-1 anti-aging eye balm minimizes the look of wrinkles, dark circles and puffiness for youthful, brighter-looking eyes.
$65.00
HOW DOES IT WORK?
Mitracarpus and Kangaroo Flower extracts visibly firm, lift, and fight wrinkles.
Extra-Firming Eye is packed with potent plant ingredients selected for their effectiveness on the delicate eye contour area:
ALBIZIA
Targets dark circles and puffiness for brighter-looking eyes.
HORSE CHESTNUT ESCIN
Refreshes tired eyes.
Slide to discover the Extra-Firming effects
92%

Eye contour is visibly softer*

78%

Signs of fatigue are less visible*

77%

Fine lines and wrinkles visibly reduced*
*Satisfaction test - 107 women - 28 days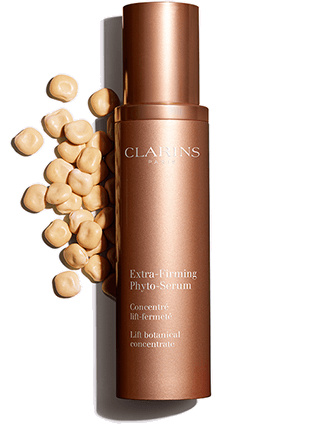 White Lupine seeds
Extra-Firming Phyto-Serum
Lift botanical concentrate
Our breakthrough, power lift serum visibly firms, lifts and tightens slackened skin to help visibly redefine facial contours, with results you can see after first use.
$102.00
N°1: Instant lifting effect
ORGANIC BLUE AGAVE & QUINOA EXTRACTS
Together form a supportive mesh on the skin's surface, for an immediate lift effect.
N°2: Lifting effect day after day
WHITE LUPINE EXTRACT
Clarins' newest plant discovery visibly tightens the skin for redefined facial contours.
Slide to discover the Extra-Firming effects
89%

Visible tightening effect**

85%

Visibly firmer skin**
**Satisfaction test - 111 women - 28 days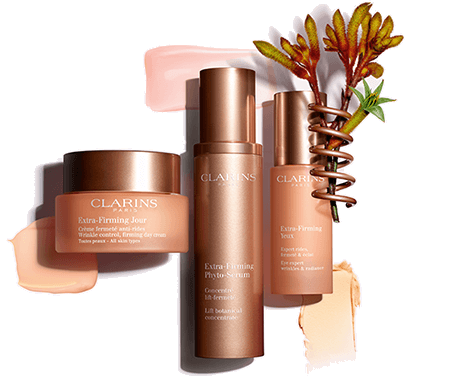 Kangaroo Flower
Extra-Firming Routine
My Skin Is: