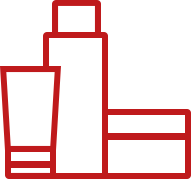 Products & Services
FIND A STORE/SPA
Where can I buy Clarins products?

Clarins.com has the widest selection of products, but we are also available at the following authorized major retailers: Belk, Bloomingdale's, Dillard's, Macy's, Neiman Marcus, Nordstrom, Saks Fifth Avenue, Sephora, Ulta, Von Maur, a number of smaller specialty stores, Clarins King of Prussia store and Clarins outlets throughout the country. Protect yourself and those you care about by buying only authentic Clarins products from authorized retailers. If you are not sure if a retailer is authorized, please contact us. Please note, if you have questions about stock/product availability or customer service outside of Clarins.com, you must contact that specific retailer.
SAMPLES
I would like to request samples

Samples are a great way to try our products and we include three complimentary samples with every order. Unfortunately, we do not send them outside of merchandise orders. Please feel free to visit one of Clarins counters at your favorite department store as our beauty consultants can offer recommendations and samples. You may also choose to place an order on clarins.com as we always offer a 30 day return policy if you decide not to keep the product.
PRODUCT INFORMATION
Are Clarins products safe to use while pregnant?

It is safe to use our products during pregnancy as Clarins products only have an action at skin level and the concentration and safety of the ingredients they contain are carefully monitored and assessed to ensure optimal tolerance. Nevertheless, we recommend that you consult your doctor if you have specific concerns.

Since Clarins caters to women of all ages, we have many clients who come to us to help care for their skin during pregnancy. We have a dedicated list of products for pregnancy

see more

.

Does Clarins test on animals?

Clarins does not test on animals. Clarins Research uses alternate testing methods and the latest advances in non-animal safety testing to ensure product excellence. Some countries where Clarins is sold require animal testing on all imported cosmetics as part of their regulatory safety process.

Is My Clarins vegan-friendly?

My Clarins is free of all animal-derived ingredients like beeswax, carmine, lanolin, etc. The Clarins Group has deliberately chosen to only distribute My Clarins to countries that do not require animal testing.

I have a complaint about a product

We take complaints about our products seriously. For assistance, please call between 9 AM - 8 PM ET Monday - Friday (excluding holidays) at 866-325-2746 or

email

and we will assist you.
Can't find the answer to your question?
CONTACT US