Dull or dehydrated?
That is the question!
Be guided to perfectly hydrated skin with Beauty Tips from the Clarins Experts.

Everything you need to know about hydration.
Face
Keep it quenched & protected.

PERFECT HYDRATION IN ANY SITUATION
BE STREET-SMART!

Don't let pollution get under your skin! With UV PLUS Anti-Pollution, Clarins has you covered.

Sanicle

UV PLUS Anti-Pollution Sunscreen Multi-Protection Broad Spectrum
SPF 50

MOUNTAIN DO!

Cold, dry and rarefied—the atmosphere at high altitudes is less able to protect skin against damaging UV rays. Use an SPF 50+ sunscreen during the day, and a rich cream at night.

Leaf of Life

Sunscreen for Face Wrinkle Control Cream
SPF 50




Hydra-Essentiel
Silky Cream
- Normal to Dry Skin



HYDRA-ESSENTIEL FOR EVERY SEASON
Discover targeted formulas and luxurious textures for intensely hydrated, radiant skin in any climate… day and night, all year long.
HAVE A HYDRATION PLAN HANDY
Round out your beauty routine by adding a serum that's targeted to your skin concerns.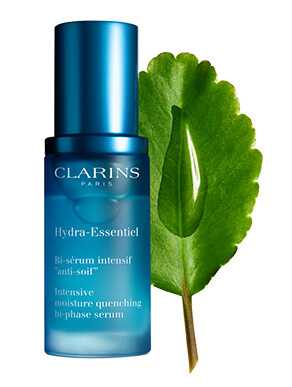 Leaf of Life
Hydra-Essentiel Bi-phase Serum - Normal to Dry Skin
Quenches thirsty skin that is tight, dull and dehydrated.
+
Myrothamnus

AGE 30+

Multi-Active Day - All Skin Types

Visibly minimizes fine lines and boosts radiance.

Kangaroo Flower

AGE 40+

Extra-Firming Day - All Skin Types

Visibly firms, lifts, fights wrinkles.

Harungana

AGE 50+

Super Restorative Day - All Skin Types

Visibly replenishes, illuminates and densifies.
Body
Head-to-toe hydration.

EXFOLIATE
EXFOLIATE: Exfoliate for skin that looks fresh and feels great! Aim for 1-2 times a week. This gentle action polishes away dull surface cells to leave skin radiant and smooth—visibly renewed.
EVERY BODY NEEDS MOISTURE
Bare your best with super-hydrating formulas for soft, smooth, silky skin. Use them lavishly—from shoulders to toes!
Aloe vera

Body-Smoothing
Moisture Milk

Hydration every body adores. Silky texture melts right in to help sooth, protect—moisture-perfect.

Shea

Moisture-Rich Body Lotion

Intensive moisturizing treatment smoothes dry, rough patches and improves skin tone for a youth-ful, allover glow.
HAND & FOOT CREAMS
Moisturize down to your fingertips and toes.
Guy supplies

Have a handsome advantage with products specifically formulated for a man's skin. Each helps tone, refresh and protect skin from the elements with Clarins' Anti-Pollution Complex.
ClarinsMen Super Moisture Balm

Softens, tones and comforts skin after shaving.

ClarinsMen Super Moisture Gel

Helps firm, revitalize and soothe razor burn.

Bison grass

ClarinsMen Active Hand Care

Soothes roughness and irritations resulting from work, workouts and harsh weather.