Stretch marks? Here's what you need to know.
In cases of rapid weight gain—including pregnancy—purplish-pink lines, known as stretch marks, may appear on the stomach, hips, breasts, backs of arms—any place the skin is overstretched. Stretch marks are caused by ruptured elastin fibers in the dermis. Over time they become white and permanent.

Be resilient.
Power-up your daily body cream with a few drops of Clarins' nourishing Tonic Body Treatment Oil.
Tonic Body Treatment Oil. Formulated with 100% natural plant oils—including Rosemary, Geranium and Mint—it visibly firms, tones and prepares body skin for weight fluctuations associated with pregnancy.
Field Mint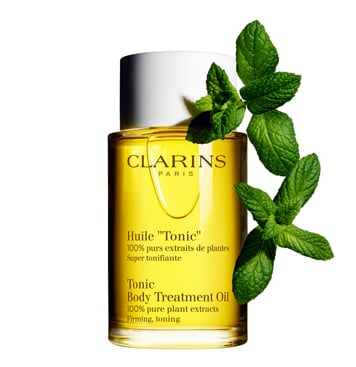 Tonic Body Treatment Oil
$69.00
Clarins is pulling for you!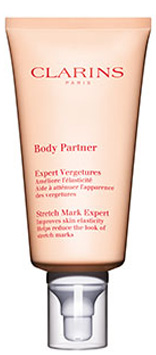 Body Partner Stretch Mark Expert
$63.00
Body Partner Stretch Mark Expert. Gentle stretch mark cream formulated with minimal plant-based ingredients, including Clarins' new PhytoStretchComplex—a blend of Centella Asiatica and Organic Green Banana extracts—to target stretch marks while soothing the skin.
Extra-Firming Body Lotion Fights skin slackening with Lemon Thyme extract. Smoothes with Shea butter. Helps visibly firm and tone with extracts of Centella and Bocoa.
Feel great about your body with a complete program of stretch mark-fighting formulas that will keep your skin in soft, sleek, beautiful condition all pregnancy long.