Skin Solutions
Expert serums powered by plants & science.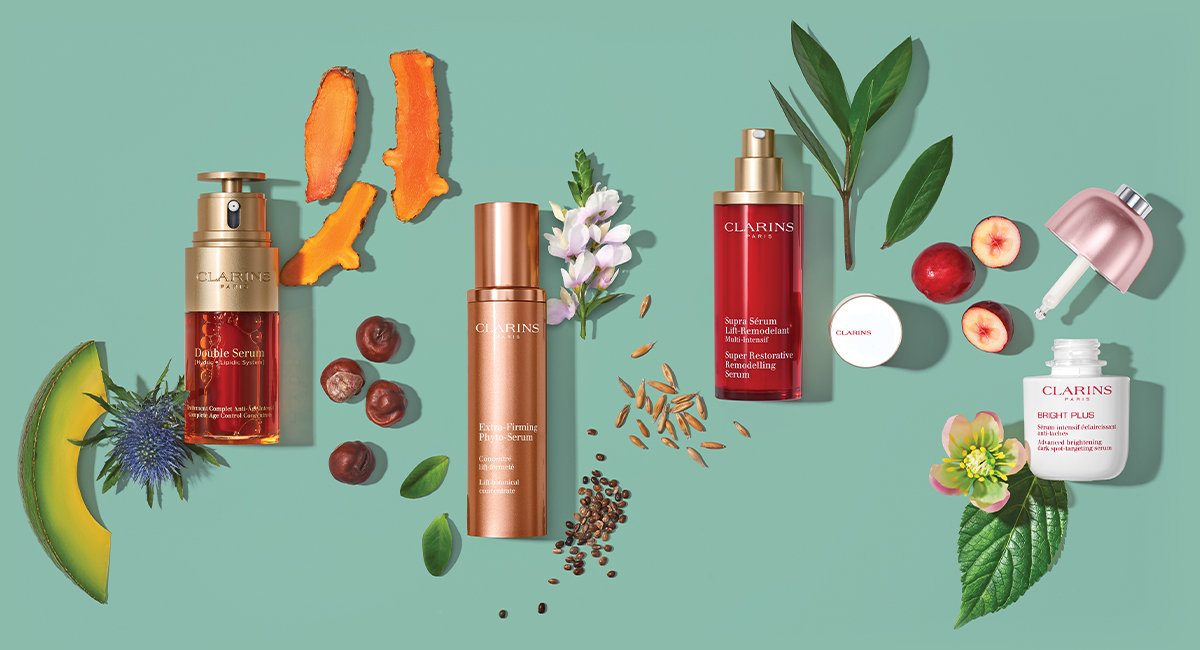 Power up your skincare routine with problem-solving & age-defying serums!
Serums are concentrated formulas infused with plant ingredients and scientific molecules to give your skin a daily dose of what it needs.
Clarins has a super-charged serum to address every concern.
Shop serums
Discover our best serum for your skin concern.
Serum FAQ
What is a serum?
Serums are concentrated, nutrient-rich formulas that are targeted to specific skin concerns. They also boost the performance of Clarins moisturizers.
Why should I use a serum?
Serums are highly concentrated formulas that deliver powerful ingredients directly to the skin, and boost the performance of your Clarins day and night moisturizers. These plant-based formulas target every skin concern to help you achieve your skin goals by delivering immediate, visible and long-lasting results.
Serum or cream – which one do I need?
Both. Serums are highly concentrated formulas to target any skin concern to help you achieve your skin goals. Day and night face creams are essential to your daily routine since they moisturize and help protect against environmental aggressors. They also lock in the benefits of a serum.
How do I apply my serum?
After cleansing and applying an eye cream, apply your serum, followed by your day and/or night cream. For optimal performance, apply your serum using the Clarins Touch Method.
Warm product in palms.
Apply to center of face, including cheeks and chin. Place onto skin in 2 steps, working outward toward the ears and 2 times down each side of the neck.
Press onto skin in 3 steps, moving outward from the cheeks toward the ears, and from the center of the forehead to the temples.
Can I use two serums at once?
Yes. Depending on your skin's needs, use a Clarins serum in the morning and another one at night to address different concerns.
Can a serum be used alone?
While you can use a serum alone, we do not recommend it. Clarins' philosophy is to use a serum and moisturizer together to maximize results.
Do serums have a particular texture?
Clarins serums have refreshing, lightweight textures that are absorbed quickly and easily into the skin. Each Clarins serum offers a unique texture and sensoriality to enhance the benefits of the product.
Can a serum be applied around the eyes and to the lash area?
Face serums are not designed for use on the eye contour or eyelash areas. Clarins has complementary eye products that are specially formulated for the delicate skin around eyes. These are available in various forms, textures and for multiple concerns.
At what age should I start using a serum?
Clarins recommends starting at age 20 to address specific concerns such as pores, dryness, or dark spots. For any anti-aging concerns, Clarins recommends using at 25+ years old.
Are Clarins serums suitable for everyone?
Clarins has serums formulated for any skin concern, ethnicity and age.
Which serum is right for me?
A beauty consultation in-store or online will help determine your skin's needs. Double Serum addresses all visible signs of sign aging, so when in doubt, it's an excellent choice for women of all ages, all ethnicities, and all skin types—even the most sensitive skin.