Rose Radiance CreamSuper Restorative
3-in-1 Youthful Glow
Smooth skin texture - Luminous complexion - Even skin tone
Clarins intensive 3-in-1 daily replenishing moisturizer for mature skin is formulated to deliver on the 3 dimensions of radiant skin: smoothness, luminosity and even skin tone.
This vibrant pink-tinted, anti-aging moisturizer warms the complexion to reveal a natural-looking, rosy glow instantly.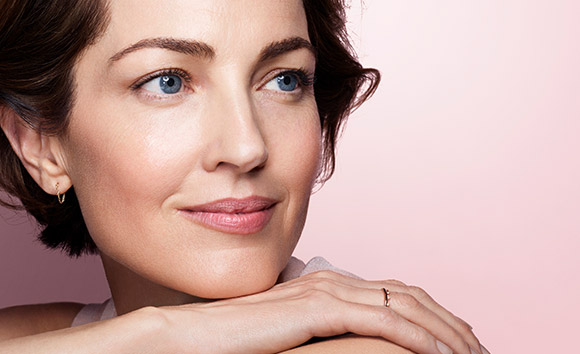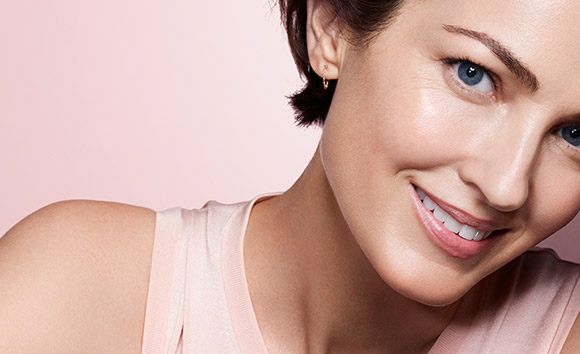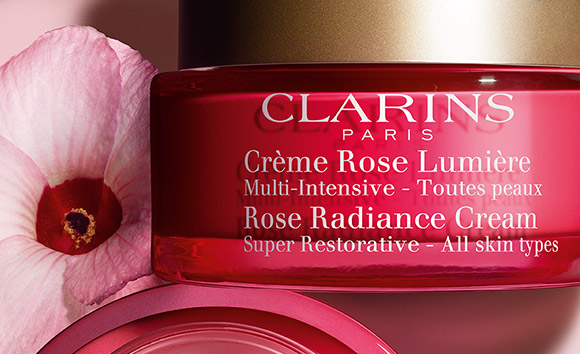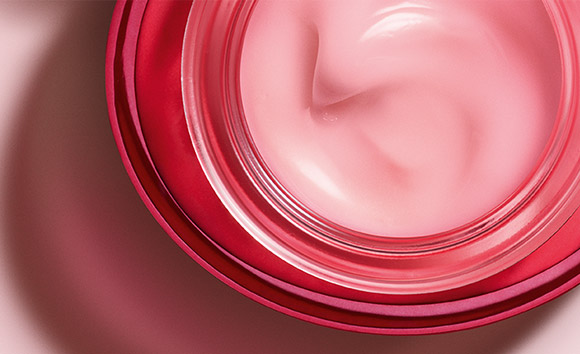 Three glow-boosting benefits.
A blend of radiance-enhancing ingredients promotes a smooth, even, rosy complexion—glowing with renewed vitality and the look of youth.
A plant-based Anti-Pollution Complex helps protect skin from indoor, outdoor and electronic pollutants.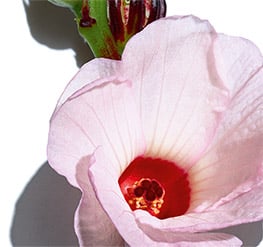 Hibiscus Sabdariffa
Boosts luminosity
Clarins' Universal Radiance Complex+
Contains 4 shades of mother-of-pearl that amplify white light—boosting skin's luminosity and blurring imperfections for a virtually flawless complexion.-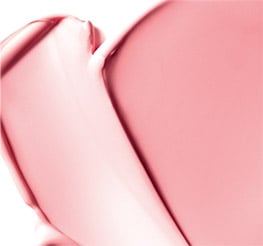 Smoothes skin
Hibiscus Sabdariffa Flower acids+
Gently remove dead surface cells, leaving skin smooth, supple and visibly tighter—allowing light to better reflect on the skin for maximum rosiness and radiance.-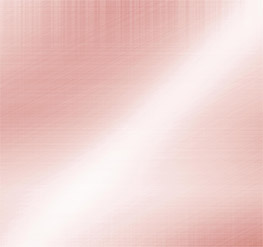 Evens skin tone
The moisturizer's pink tint, and a dark spot-targeting vitamin C derivative+
Combine to promote a healthy-looking, rosy glow and an even skin tone.-
Irresistible texture
Creamy texture melts into the skin—leaving it rosy, radiant and ideally hydrated. Skin looks youthful and vibrant at any age.
86%
of women call it radiance in a jar.*
*Satisfaction test – 105 women – 28 days
**Satisfaction test – 105 women – upon application
Addictive new aroma+
Delights the senses with an addictive, fruity-floral scent of peach, peony and rose.
84%*
Ultra-fresh scent-
Vibrant pink cream+
Vivid pink moisturizer delivers a natural-looking finish on the skin: 93%*
Texture's innovative pink color gives immediate healthy glow: 82%**
-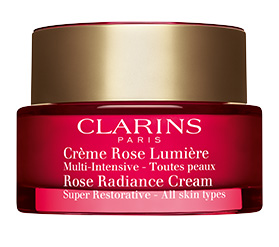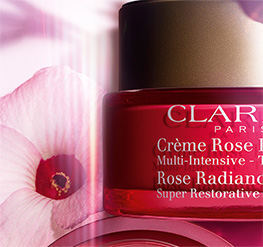 +Plus Anti-Aging Innovation
Organic Harungana extract replenishes to visibly restore skin's density, elasticity and healthy-looking vitality.
An anti-aging scientific molecule helps visibly improve the look of skin density.
Line-filling pearls visibly plump to smooth the skin's surface.
81% More toned skin*
80% Smoother skin*
Skin appears plumper and more youthful; the look of deep wrinkles and skin slackening is minimized.
*Satisfaction test – 105 women – 28 days
Head-to-toe solutions for younger-looking skin.
Clarins' Super Restorative range offers intensive face and body treatments that improve the look of skin density, target age spots and renew radiance for a more youthful-looking you. Find a solution for every inch of skin.
Experience the Art of Touch
Let your Clarins Aesthetician revitalize and revive face, body and mind with the power of pure plant extracts and the healing art of touch.