Soothing relief for tired legs and feet.
Your tummy is getting bigger, but that's not all. During pregnancy calves, ankles and feet tend to swell. It's hormonal. And normal. Not to worry—once your baby is born, this uncomfortable bloat will start to recede.

Here's what to do in the meantime.
Walk for at least 30 minutes a day. Swap stilettos for flats. Finish your showers with a blast of cool water from feet to thighs. Raise your legs when you sleep. Massage legs and feet with Clarins' Energizing Emulsion to help relieve feelings of heaviness and fatigue.
Give your legs a lift!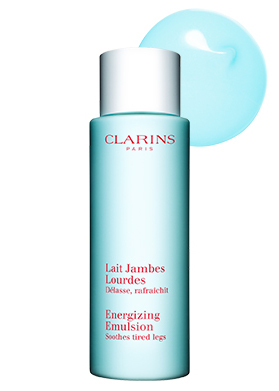 Energizing Emulsion
$43.00
Energizing Emulsion. Clarins' refreshing blend of Camomile, Basil, Sage and Cypress extracts is a feel-good treat for tired legs and feet. Massage in from thighs to toes to help relax, tone and rev-up circulation.
"The blue color is a little surprising, but the refreshing sensation is instant. My legs feel lighter and the effect is long-lasting. A must-have for morning and night!" Customer Review