Hydra-Essentiel Silky Cream SPF 15 - Normal to Dry Skin
Moisturizes and quenches - silky cream with UVA/UVB sunscreen Product details
9

Reviews
Skin Type:

Normal, Dry

Texture:

Cream
Buy 1 item = 15% OFF. Buy 2 items = 20% OFF. Buy 3+ items = 25% OFF.
Luxurious silky cream delivers all-day hydration to thirsty skin, while shielding it from the dehydrating effects of daily thermic shocks that leave it looking dry and weathered: sun, sudden temperature changes, indoor and outdoor pollutants and environmental stress. Quenches skin with Organic leaf of life extract—a succulent plant that enhances the skin's ability to retain precious moisture—leaving it comfortable, radiant and perfectly hydrated.

Moisture perfection.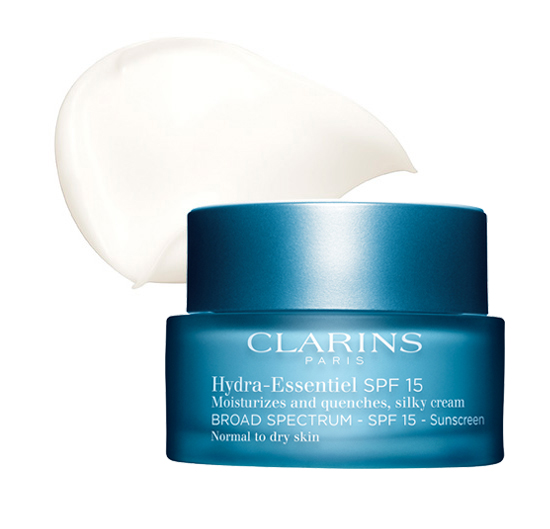 Quenches skin from within.
Day after day, the dehydrating effects of heat, cold, pollution, sudden shifts in temperature and humidity can leave skin looking dry and weathered. Water is essential to life, and to your skin's beauty and comfort.
Now, NEW Hydra-Essentiel Silky Cream Broad Spectrum SPF 15 delivers all-day hydration, while decreasing risk of early skin aging from harmful UVA/UVB rays.
Boosts the skin's natural hydration
Luxurious silky texture
Leaves skin comfortable, radiant and perfectly hydrated
Contains Clarins' Anti-Pollution Complex
Broad Spectrum - SPF 15 - Sunscreen